The Counterfeit Market
All over the world, counterfeit and pirated goods that are sold form a $500 billion industry. These counterfeit and fake goods are more often than not produced in chinese factories using inferior materials in order to keep costs low. Common counterfeit items include luxury brands in the sale of leather goods, clothing and pricey watches, old and expensive artwork and other antiques. With this threat of counterfeit goods sold illegally, many companies have spent millions of dollars to combat this phenomenon and to uphold their brand name.
Image source: https://www.flickr.com/photos/en321/37531889/
In the beginning, counterfeit goods of luxury brands often had obvious miss-spellings and poor quality control which one would come across in markets when travelling to various asian countries. However, a new type of high-end replicas has emerged. These high-end replicas are more costly to produce as they use materials of better quality and it more closely mimics the real deal. These replicas prove to be trickier to tell apart from the real deal as they even come with authentic looking packaging such as dust bags and boxes and sometimes even "receipts" and "authentication cards".
This is where digital microscope tools such as Dino-Lite come in handy. The majority of counterfeits in the counterfeiting industry are manufactured or built without regard for the object's microscopic details. These microscopic details can help to differentiate these products from their counterfeit counterparts. Even if microscopic details are observed, producing objects with micron or nano-level precision is difficult and costly. Thus most counterfeits lack this level of precision as doing so undermines the economies of scale that allow the counterfeiting industry to thrive.
With many customers switching to shopping online rather than in physical stores, counterfeit goods can easily disguise themselves and pose as the real deal to mislead consumers into buying them whilst thinking them to be genuine. As this trend becomes emergent, consumers are now more cautious when it comes to buying expensive items and are thus more likely to purchase from reputable sellers even if it may cost them more. This makes Dino-Lite microscopes a handy tool to have for pawn shops, luxury goods resellers and consignment stores to authenticate their products.
These portable handheld microscopes have a magnification rate of 250x as compared to cheaper alternatives such as loupes which only have a 30x magnification. This makes it a multifunctional tool to analyse different objects and surfaces. With counterfeit goods looking more and more realistic, Dino-Lite will be able to identify microscopic differences in details that such counterfeiters are likely to miss out on.
Dino-Lite Microscope Applications
For example, luxury branded handbags are superior when it comes to the quality of materials and craftsmanship as compared to their imitation. As such, with the help of a digital microscope, one can closely examine the quality of leather used, the stitching and the printing of logos. These inconsistencies are much more difficult to pick out with the naked eye than if one were to use a Dino-Lite digital microscope.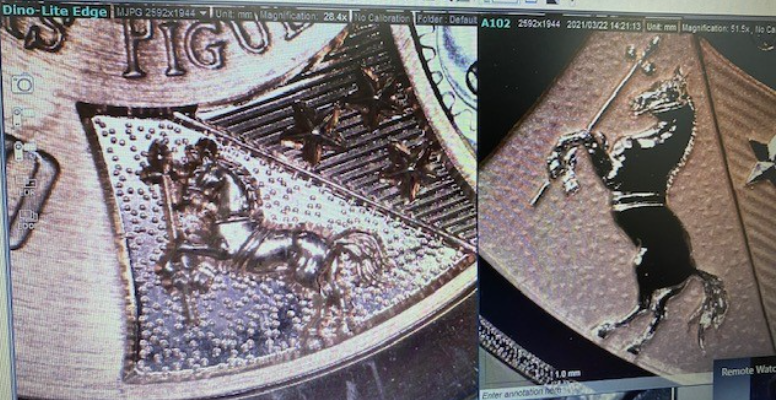 This is the same for expensive watches that are constantly subjected to cheap replicas being produced and sold. Fine detailing in the metalwork is often overlooked by copycats and many people are unable to tell the difference without the use of a digital microscope. When magnified, the lack of precision in engravings is much more obvious to prove that the goods are not genuine. On that account, Dino-Lite proves to be extremely useful in picking out fakes, reducing the time needed to inspect each piece with its high levels of magnification and other abilities.
Dino-Lite digital microscopes can also be used to inspect the authenticity of jewellery, especially diamonds by identifying each stone's unique certification code. These microscopes can also look for abrasions on the surface, nicks or cavities or cracks that may affect the structural integrity of the diamond.
With the ease of using Dino-Lite to obtain clear and detailed imaging, Dino-Lite can be used by individuals who may be avid collectors of luxury goods and precious stones. Dino-Lite digital microscopes can also be used by businesses such as pawn shops, luxury goods resellers or consignment stores to examine luxury handbags and watches, inspect jewelry for repairs, assist in appraisals and greatly speed up the authentication process. Currently in use by Maxi-Cash, a major pawnshop in Singapore, Dino-Lite microscopes are used to take microscopic images to confirm the authenticity of watches. Read about it in the article link here: https://www.dinolite.sg/news/detail/maxi-cash_authenticates_branded_goods_remotely_with_dino-lite
Image source: https://www.dinolite.sg/applications/detail/art-conservation-restoration
When it comes to conserving and restoring old and delicate artwork and antiques, it is vital to take great care not to damage them. Therefore, a Dino-Lite digital microscope will be able to aid users in performing non-destructive analysis and restoration works on the piece. Additionally, the digital microscope can help to identify the composition of the medium used to prove that the piece is authentic, be it the type of stone, paint, or canvas used. All this information can then be used to aid the decision making process of forming a suitable conservation treatment.
Image source: https://commons.wikimedia.org/wiki/File:IMA_Conservation_Technician_4.jpg
Having a digital microscope will enable museums and professional restorators to conduct restoration works while paying greater attention to maintain the integrity of the painting. Each painting and artwork will require a different approach due to the different techniques used by each painter in terms of brush strokes, paint composition and paint impasto (the texture of the paint surface).
LFC is the authorized distributor for Dino-Lite in Singapore and Indonesia. Contact us if you wish to discuss about your microscopy applications.


References
Art Conservation & Restoration Digital Microscope Applications | Dino Lite Singapore. (2021). Retrieved 17 June 2021, from https://www.dinolite.sg/applications/detail/art-conservation-restoration