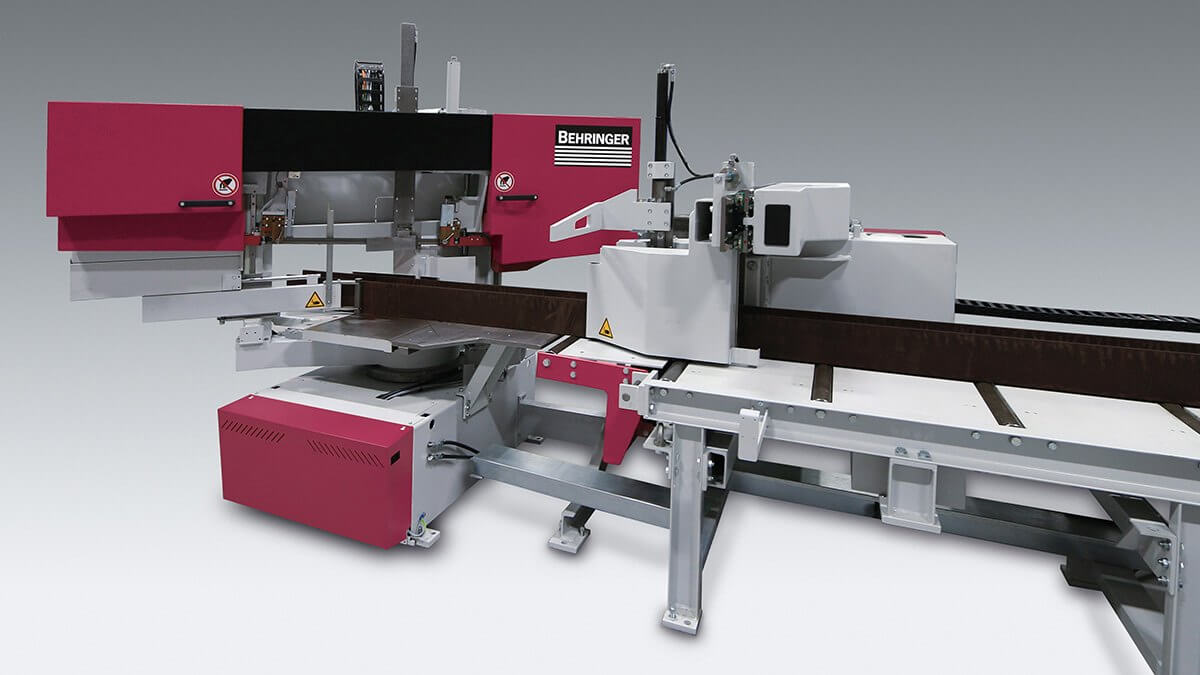 Earlier this month (July 2017), our German principal Behringer, introduce automatic mitre-cutting bandsawing machine, the Behringer BE320-523GA series. Behringer is known as the world's most comprehensive range of high-performance sawing machine maker for the steel and metalworking industry.
The new BEHRINGER mitre-cutting bandsaw HBE320-523GA combine the benefits of modern high-performance machines for one-off sawing tasks with the solid, tried and tested characteristics of a classical mitre saw. Behringer produces precision sawing machines, automation systems, and peripheral equipment for every conceivable requirement to suit every budget.
The innovative system on HBE320-523GA will improve process reliability and chips evacuation at the same time. The new mitre saw share several common features in with the HBE Dynamic series, which has already proved as the bestselling machine.
"We deliberately integrated various features from our BEHRINGER high-end models into this machine, raising the HBE320-523GA into a class of its own", says the company's CEO Christian Behringer with confidence. With its extensive application spectrum, it reliably covers the wide-ranging requirements of the steel construction sector and the steel trade. The new mitre cutting bandsaw is easily able to cope with both structural steels and stainless steel profiles.
"For reasons of cost and flexibility, profiles are mostly purchased in starting lengths of up to 12 metres, then sawn to size", says the company's CEO Christian Behringer.
Potential users also include medium-sized operations in which the new automatic HBE is required to run unmanned for part of the time. With a cutting range in flat materials of 520 x 320 mm, bilateral mitre cuts of 45° and up to 30° on the left, this machine is the perfect all-rounder for all kinds of sawing operations. The good thing about this, is that Behringer is the only sawing solutions who supplies these fully tested accessories from its own in-house steel production facilities.
Behringer HBE320-523GA Features:
The guidance system in its torsionally solid gantry mechanism and the bilateral band wheel bearings ensure lesser noise operation that will give you precision cuts.
Cutting range in flat materials of 520 x 320 mm, bilateral mitre cuts of 45° and up to 30° on the left for all kinds of sawing operations.
Thanks to its band guiding components which are made of vibration-damping grey cast iron, you can have both predictable qualities of the sawing surface and user-friendly format while reducing the down time needed to replace the blades, especially when you are working with a busy routine.
The slightly angular position of the band wheels helps to reduce the sawing blade fatigue due to cyclical bending.
The addition of micro-spraying system and electrically powered chip brushes, you can have a cleaner saw blade of adhering chips synchronously and prolong the economic life of bandsaw blades at the same time.
A fully automatic height adjustment facility for the saw frame and lowering of the saw when in rapid traverse help cut non-productive time to a minimum.
The specifically angled sawing will allow your operator to saw components such as girders, angled steel, and U profiles as well as hollow rectangular profiles to be sawn at higher speed and with less burr.
The sawing machine unit itself is mounted for easy turning in generously dimensioned axial roller bearings which can be swiveled with a hands-on manual action.
The closed material table also simplifies material handling directly at the cutting point. Furthermore, you can also order as required with infeed and discharge roller conveyors, measuring devices and cross conveying systems, as well as NC angular adjustment.
As there is increasing demand to saw at medium volume on both ferrous and non-ferrous profiles and tube material of newer design, a higher cutting outputs with simple handling, and precise angular cuts are needed.
At LFC, we support Behringer's 85 years of unrivaled expertise on sawing for maximum precision and economy for our customers with full after-sales support as well. Do not hesitate to contact us if you are interested in discovering a prosperous future with BEHRINGER mitre-cutting bandsaw HBE320-523GA. From Malaysia to Indonesia, our exclusive distributorship with Behringer will surely benefit you in any way possible.
­­We are look forward to work with you.
Sincerely,

Your friends at LFC PTE LTD